Simply speaking, in information technology, a cluster is made up by a number of nodes (two or more) operating together as one, single, entity. This allows for higher business continuity, improved performance and availability, and scalability to name a few.
Companies requiring extreme levels of uptime (such as business critical systems in the core of financial institutions) or high levels of scalability due to load fluctuation (such as SaaS eCommerce or CRM providers) rely on the power of cluster systems to ensure their customers do not encounter problems in their usage experience related to traffic overload, maintenance, hardware failures, etc. Should a computer node of the cluster become unhealthy, this kind of system simply elects the next best one, already pre-configured or running (hot standby) to do exactly what the previous one did (or, in some cases, simply reschedule the activity to another node still running).
Look out for EmailSuccess as we will be launching a new release which includes a full high-availability cluster in 2020. This new version of our MTA will allow you to enjoy all of the advantages of cluster capabilities in the context of email delivery and SMTP servers, which include:
Business Continuity: since more than one EmailSucccess node will handle the data, you'll never experience downtime. In the event of a server malfunctioning, your scheduled operations will pass to the functioning one in a seamless fashion.
Scalability: the ability of the system to scale up performance and storage by simply adding more EmailSuccess nodes to the cluster allows for near linear scaling of sending performance and better resource management and consolidation (no need for initial hardware overcommitting).  
Centralized Management: reducing "cost of ownership" and system maintenance costs through a single administration panel (for example, taking away the need to administer four different EmailSuccess servers with a single cluster containing four nodes) and removing the need for external systems like load balancers to guarantee system availability in non-clustered installations. 
Below is a standard configuration showing the powerful architecture that clusters can offer: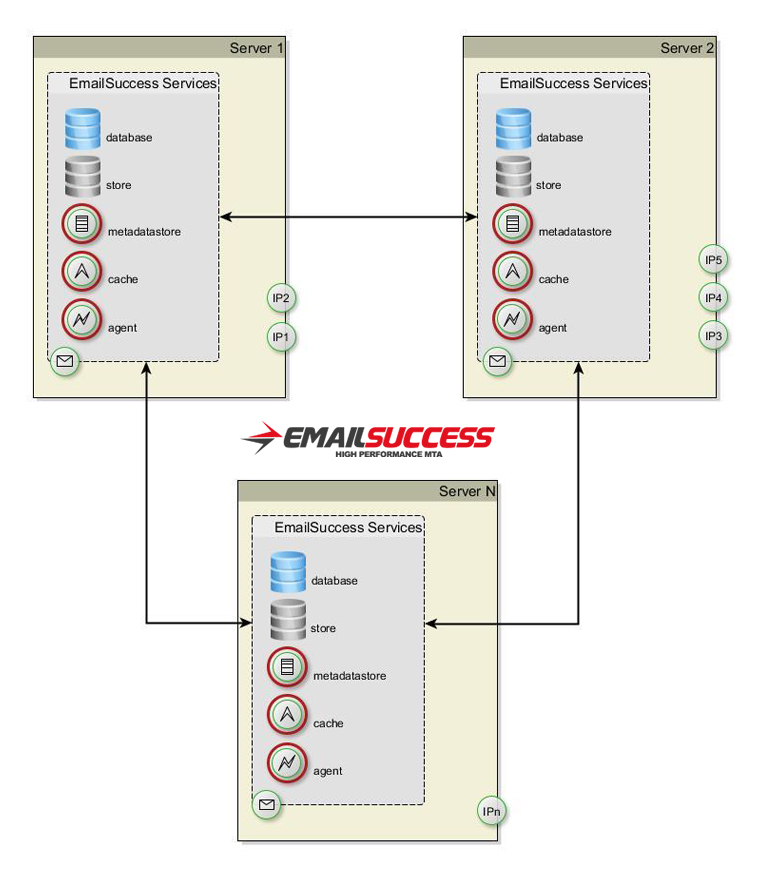 Follow our blog for more information about the EmailSuccess cluster architecture and design choices we are making to provide our customers with best-in-class, high-availability MTA solutions.
If you'd like to speak with one of our team members about how you can get EmailSuccess, contact us, here.
What is a Cluster? Let's explore the benefits
ultima modifica:
2019-12-20T16:43:12+01:00
da