Deliverability Engine
Platform tuning has never been so effective, with EmailSuccess you can optimize delivery by tuning email delivery parameters automatically, in real-time.
Provider-specific Configurations: Easily set every aspect of ISP connections and deliverability, ranging from the number of SMTP connections allowed by the ISP to the maximum number of email accepted per hour and per single connection. Fully configurable options include also the Retry timings, Graylist Retry timings, Throttling, MX Provider rollup and Provider wildcard domains support
Autotuning: Analyze the ISP responses and create powerful rules to let the system automatically adapt to the individual email providers
Warmup: Automatic rules to add or remove IPs in optimal time without disrupt your reputation
IP Blacklist monitoring: Automatically monitor the status of all the sending IP on the major public RBL and let the system warn you in case of problem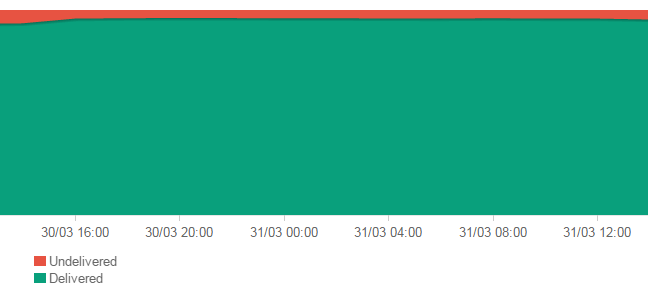 High Performance
EmailSuccess is a powerful SMTP server designed to manage high speeds and high volumes. Sending Latency, Reliability, Scalability and Deliverability are fundamental metrics to be reach in a high-performance sender infrastructure.
Flexible Queues: Segregate your traffic to prioritize your most important emails
Multiple IP Pools: Run your connections in parallel and separate your reputation using multiple IP addresses
Connection pooling: Maximize your delivery speed using parallel connections and through connection reuse
Reporting/monitoring: Find at a glance if everything is going smoothly
Authentication
DKIM signing, SPF and DMARC compliance, input handling rules, dedicated source IPs; everything you need to certify the sender of your messages.
DKIM and DMARC: Configure your DKIM signatures and be fully DMARC-compliant
Encryption: Encrypt your communications by setting how and when to enable TLS for email delivery
SPF monitoring: Monitor the sending of emails for SPF and SenderID errors
Bounce processing
EmailSuccess provides a detailed built-in classification and categorization system that allows you to clearly analyze all types of bounces and feedback loops. Track each type in real time and improve your performances.
Detailed reporting: Analyze your bounce and choose which level of reporting you need: a simple Hard/Soft Bounce categorization, a more detailed SMTP-like categorization (domain unknown, spam, mailbox full, network error) or a business-oriented categorization (Hard Bounce, Soft User Bounce, Soft Block Bounce, Soft Technical Bounce)
Powerful configuration capability: Create new bounce categories to better handle your reports or simply add a pattern dedicated to a single provider to increase your bounce report reliability
Feedback Loop (FBL) handling: Collect spam complaints sent by ISP and forward them to any other system.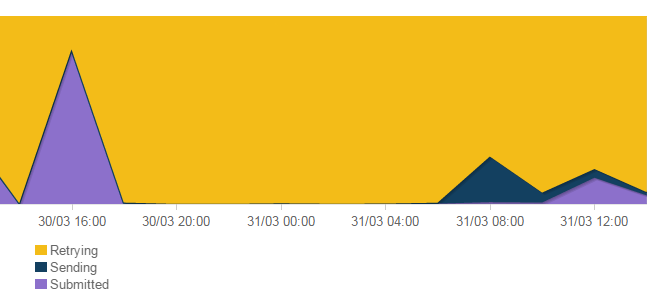 Input interfaces
Seamless Integration with your existing applications, with EmailSuccess you can immediately start sending through the SMTP interface or you can integrate your own systems using the APis.
SMTP: Just send your email through the SMTP interface to gain all the performance and deliverabilty bonus that EmailSuccess can grant you
Input scripting: Create simple scripts to route your email to the correct queue/pool inside the system without the need to modify your email stream
Input filtering: Integrate EmailSuccess with external filtering tools to check incoming messages and accept them based on the evaluation returned
Full API support: Use the REST and SOAP API to send, search and analyze messages without the need for an SMTP connection
Management
EmailSuccess is designed to meet the toughest Enterprise requirments, with the built-in VirtualMTA technology you have full control over Security, Accountability, IPs and traffic segmentation for specific email flows.
VirtualMTA: Segregate traffic and backend access with powerful virtualization option on top of the standard EmailSuccess service, simply configure different VirtualMTA to have one centralized server for all you messaging needs
SSH console: Powerful IT-like interface, manage multiple systems easily and use console redirection to create robust automation procedures
Web interface: Monitor every aspect of the system, research messages and their history, analyze and export them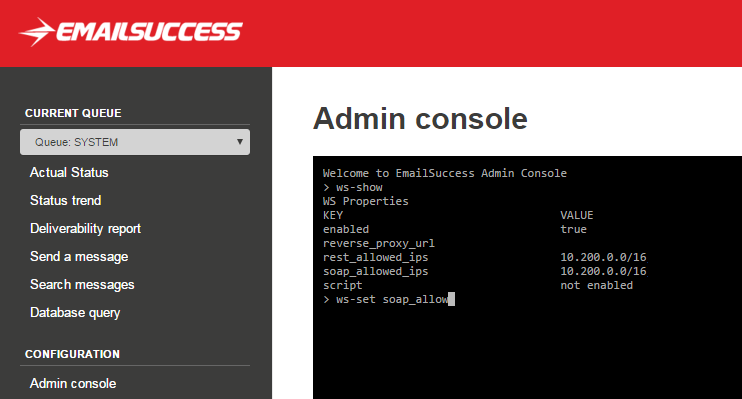 Data generation
EmailSuccess can generate automatic and real-time data feeds to support your analysis systems; event notifications can be easily pushed back to your own applications.
Data collector: Integrate the platform with external log analysis tools is really simple, you can choose the output format and fields to analize only the data that you really need
Data streaming: feed and replicate data in real-time through industrial-leading external collectors
HTTP notifications: Ask the system to send back an HTTP notification every time a message is sent or has received a temporary error to automatically feed your system with all the sending information that you need to monitor the status of the sendings.
Features
ultima modifica:
2016-03-16T16:02:46+01:00
da